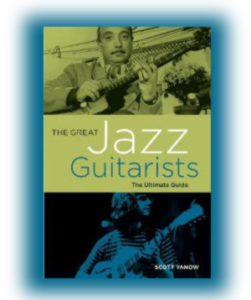 Book citing
Marlina appears in Scott Yanow's "The Great Jazz Guitarists: The Ultimate Guide" which can be found at San Francisco's wonderful independent bookstore, Bird and Beckett Books & Records, 653 Chenery St. San Francisco.
Other Nice things people have said…
Just in: "It was great having you, the residents really enjoyed your performance.  Looking forward to your next show." — Ana Pacheco, Activities Director Victorian Manor (September 2023)
"Marlina and her band were great! Very professional and engaging. Our residents really enjoyed the selection of music they played!" — Emma Davis, Director of Programming, Rhoda Goldman Center, SF (August 2023).
"The warmly sensuous flow of music Marlina sends forth moves me into a groove I hate to leave when I go back to my day job. Her new cd will light up the lives of everyone who responds to the pulse of life"
— Nat Hentoff   [See also the post written by Nat Hentoff in 2009 after learning of Marlina's Jazzheimers work.
You're fabulous! Love your swing!"
–Marc Myers, music reviewer Jazzwax Magazine
"…Great vocals! Very good playing and singing. Beautiful sounding guitar!"
–Jimmy Bruno, jazz guitarist who recorded with Frank Sinatra, Barbara Streisand, and Elvis Presley.
"Listened to your cd several times Marlina, love your sound!"
–Mundell Lowe, guitarist w/ Andre Previn, Billie Holiday, Ray Brown, Charlie Parker.
"You swing, swing, swing!"
–Donald "Duck" Bailey, drummer w/ Jimmy Smith, Sarah Vaughn, Carmen MacRae, etc.
"GREAT SWING! Guitar playing is great! Singing is sweet, hot and super great! You sing right in the pocket! Everything is tight, swinging, joyful and sincere."
–Paul Mehling, founder and lead guitarist of the Hot Club of San Francisco.